With my mind mostly on new music this month, I almost forgot to share my best/favourite 5 albums of 2012.
I must say, it is a crazy mix of albums, going from retro, to mind-blowning hiphop, to semi-electronic folk music.
Are you curious? Can you feel the tension rising?
Let start of with number 5.
5. Balthazar - Rats
First off, I would like to mention that the Belgians have defeated the Dutch, once again.(it is no surprise really, but still.)
And they did it with a band named Balthazar, gotta love the irony huh?
Anyway, This 5-piece band from Flanders has somehow perfected creating easy-going indie-pop songs, with which the album is filled to the roof. A little comparison, The XX have released an album this year, which for me was a bit of a disappointment. BUt this band showed me that making songs in that style, can still be done with so much class and passion.
I mean at first hand, you might think there is not much going on here, but something tells me they do exactly what they aim for, and that.... you can hear.The background singing still gives me the chills, The instrument use is almost experimental at times and the lyrics are still very intriguing, after a few months of listening to this, i'm not done yet.
Photo from: Pias.com
My Key tracks:
The Oldest of Sisters
Sinking Ship (Rats)
Later
Do Not Claim Them Anymore
4. Death Grips - The Money Store
If you would've asked me a year ago, what I think of Hiphop right now, I would've claimed it was dying.
But looking at where I am a year later, hiphop has started to catch my attention again, all because of one band, with their own new style of Hiphop.
Even before the release of The Money Store, Death Grips was coming some buzz with their live act. I mean, Power-Hiphop with both balls and brains, played live by a 3-headed band? Yes, please.
They have maybe even created a new genre, but who cares about it, if it could possibly set the rest of the hiphop scene on fire. I hope it already did.
I can imagine the buzz surrounding the live act, is completely true, since, listening to the songs at home, you can already feel the energy.
And when you're mind is blown away by these beats, it's time to check the lyrics. Insane really, one of a kind. And if nothing happens to the mainstream hiphop, then I'll listen to this for another year.(the band has claimed new material is on the way, some is already available on the web.)
Watch out, they might be coming for your brain next.
Warning: not for the faint of heart.
Key Tracks:
Hacker
I've Seen Footage
Lost Boys
The Fever(Aye Aye)
3. Allah-Las - Allah-Las
Being a music blogger, the hardest thing to do, is convincing the classic music listener (Kinks, Beatles, Stones and so on.) that there are bands that are sort of in the same style,
and that they are just as good, this will cause at least some sort of reaction. Stubborn as they are, stubborn as I am, I claim to have another band for them.
I'm talking about Allah-Las, and at the end of this year, finally, their first-time LP came out. Alot of the tracks were already known, but still the album hit like a bomb.
Still, I guess I should've put this a little lower, since it is only out for one month or so, and that's way too short for an album like this. But then again, they have hit-sensitive songs, deep tracks, and the right attitude, which is more important than you might think.
You have to ask me at the end of 2013 how good this really is, but for now amazing will do. Who cares about not having lived in the 60ies. Well I don't, not anymore at least.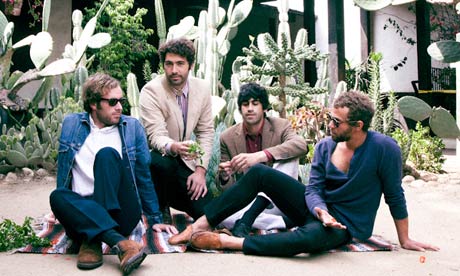 Key tracks:
Catamaran
The Busman's Holiday
Vis-a-Vis
Tell Me (What's On Your Mind)
2. Django Django - Django Django
How many people even live in Scotland? I mean, how can a country like that produce so many good acts. By far the most impressive from this year was new band Django Django.
Talking about creating your own style. It's definitely alternative that's for sure. A crazy mix of acoustic-sounding guitar, electronic effects/synths, a lot of multi-vocaling and strange lyrics give most tracks an exotic feel.
Don't ask me how, but this has from the day it hit the web, been in my mind. Creativity of the next level, perhaps? Take for example the song firewater, it has all the previously mentioned aspects,
and then a acoustic interval sets in, and you know, you just know it's right. For me the most fascinating thing is, that while they seem to do everything to fall out of line, mos of their tracks are insanely catchy,
and make you want to move and sing, and what not. These guys from Edinburgh have certainly hit the right note on their first album.
You might have noticed the lack of comparisons, well that's because there is none. It serves no purpose, to give you reasons to listen to this. This is one band, that you just have to try out.
My Favourite Tracks:
Firewater
Waveforms
Life's A Beach
So what's the only album of last year, that has impressed me more, than every single one mentioned before. In a year like this, with so much new styles and ideas, it had to be an album like no other.
An album full of interesting, long-lasting, beautiful tracks. Django Django was so close.
1. Yeasayer - Fragrant World
I guess this is the time, I have to convince you folks, why this is the best album of 2012.
Well it's actually pretty simple, considering what i said before about this year for alternative music.
'Normal' isn't going to cut it anymore. And for me Fragrant World by Yeasayer, is the only album that had it all on every single track. the catchyness at first glance, the originality written all over it and songs that are still beautiful after 200 spins, probably even more beautiful than before.
Also, this album is for me the perfect example, that electronica and in this case folk music, can go hand in hand. And there is always room for sme mroe psychedelic vibe.
Yeasayer was always a bit of a typical outsider, but they have perfected their own style, at least that is what it sounds like.
The singer has improved massively and they are way more creative with especcialy the electronic part of their sound. And that while they already were counted among most creative of bands.
When listening to this album, it is easy to forget, that before this album, they were mainly known for a folky song in the form of 2080.
But still the mix between these two styles, is what still fascinates me, when listening this album, a long time after release. sometimes clearly switching within a song from one style to another, and they all do it in style. Labelling of a certain genre, doesn't cut it.
It's also been a good year for lyrics, and this album might be one of the best examples of just that. Songs about Henrietta Lacks and a weird connection with Reagan? Sign me up!
For me, and that is not what i had expected to say at the beginning of the year, Yeasayer is now one of the top alternative bands alround, that is absolutely vital for New York's electronic rock scene.
Anand Wilder and companions, thank you.
Key Tracks:
Henrietta
Demon Road
Damaged Goods
Reagan's Skeleton
Folk Hero Schtick
 This also means, that the complete playlist on my youtube channel is online.
For now, I can only hope 2013 will be even better.
Cheers!